A trip to Coles Bay and Freycinet National Park is not complete without visiting Freycinet Lodge, for a night, a day or just to take in the view. The Lodge offers four and four and a half star accommodation within Freycinet National Park, along with two restaurants and a casual bar. This is the only accommodation and dining available in Freycinet National Park and the view from the balcony is spectacular. Australian and New Zealand auto club members receive an accommodation discount at Freycinet Lodge - available on direct bookings only. To protect the delicate environment, the timber cabins and Coastal Pavilions, hidden in the She Oak forest, are linked by raised boardwalks. Freycinet Lodge is a great base from which to explore the area, including the famous Wineglass Bay, Hazards Beach, sea kayaking, cruising and more. Bicycle hire is also available. Nearby, you can explore the Freycinet Marine Farm, the seaside villages of Bicheno and Swansea and acclaimed cool-climate wineries. You can sample the best Tasmanian wines or whiskies with a tasting experience at Freycinet Lodge as well as dinner at The Bay Restaurant or Richardson's Bistro. Free public WiFi is available to all visitors.
Disabled access available, contact operator for details.
ROOMS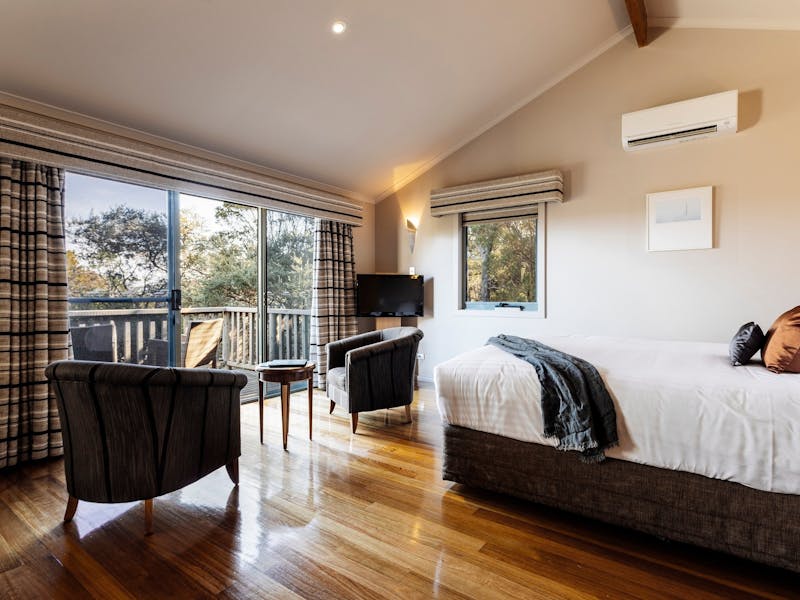 Cabin
The cabins range from one and two room cabins up to premier cabins with spas and king-size beds.
99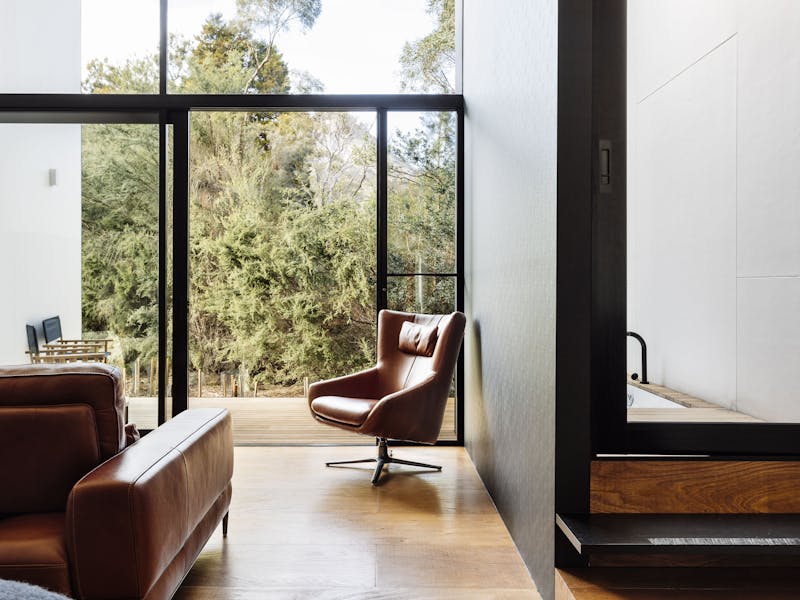 Mountain Terrace
Set amongst the coastal bushland, the Mountain Terrace King and Family rooms offer understated contemporary accommodation within Freycinet National Park. Spacious and light-filled, these rooms boast a double height glass wall facing the majestic Hazards mountain range, offering glimpses of their striking pink granite peaks. Sink into the warm water of your outdoor tub or relax in your luxurious king-sized bed and immerse yourself in the picturesque natural setting.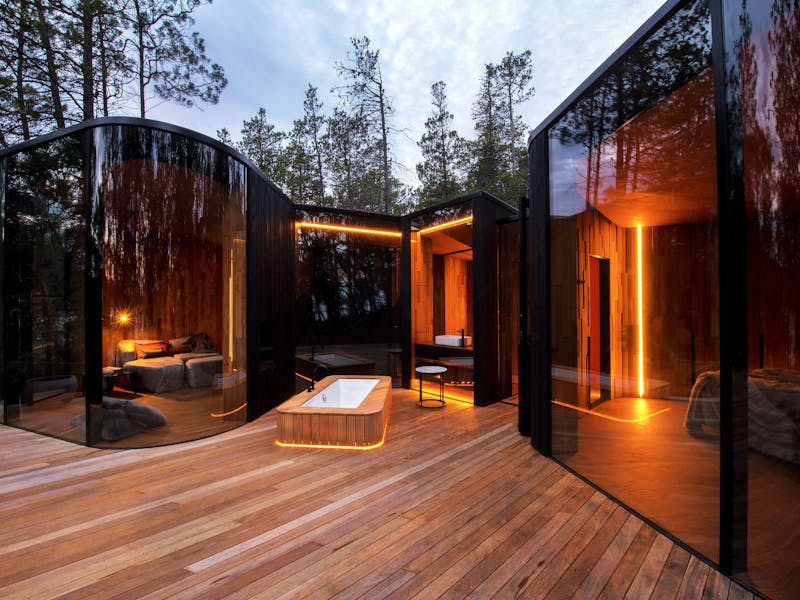 Coastal Pavilion
An immersive accommodation experience within Freycinet National Park. Freycinet Lodge's Coastal Pavilion offers a superb blend of natural simplicity and ultimate comfort. Boasting a king bed configuration, outdoor bathtub, separate living area and expansive deck, the room itself is perfect for a romantic getaway to Tasmania's spectacular east coast.
2