Inala Country Accommodation offers two self-contained cottages on a 600-hectare conservation nature reserve on Bruny Island, Tasmania. It's the perfect retreat for birdwatchers, nature enthusiasts, or those wanting a taste of peaceful country living. 'Inala' is a three-bedroom cottage, and 'Nairana' is a one-bedroom spa unit. Both cottages have fully-equipped kitchen, laundry and barbecue facilities. Inala's master bedroom has a queen-size bed, the second two single beds, and the third has a single bed. Nairana features quality furnishings, Tasmanian timbers, and has been purpose-built to maximise bird- and wildlife-watching opportunities. The bedroom has a queen-size and single bed, and a double sofa-bed in the lounge/dining area. 'Inala' is an aboriginal word for 'peaceful place'. The reserve is a haven for native flora and fauna. Over 90 species of birds, including six threatened species and all 12 Tasmanian endemics, white wallabies, echidnas, eastern quolls, and almost 40 species of native orchids, have been recorded here. Walking tracks extend throughout the reserve, including through the Jurassic Garden which comprises 650 species of plants that illustrate the biological links among continents that once formed the supercontinent Gondwana. Guided nature tours of the garden and conservation reserve are available.
Disabled access available, contact operator for details.
ROOMS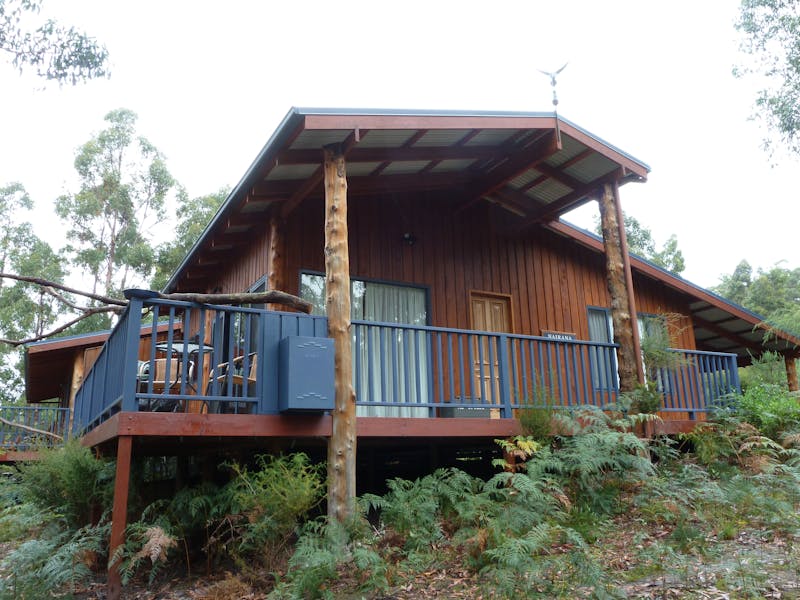 Apartment
Typically an Apartment has one or more bedrooms, a separate living area, cooking facilities and its own bathing and toilet facilities, all accessed from within the apartment.
11