Following an impressive refurbishment from former Antarctic Training Facility to premium alpine accommodation in 2016, Thousand Lakes Lodge is not just a haven from the elements, it's an essential addition to your Tasmanian adventure – the gateway retreat to your Central Highlands experience in the Heart of Tasmania! "A Place Like No Other" The Central Plateau is almost otherworldly, a beautiful and unique alpine environment. Wrapped inside Tasmania's World Heritage Wilderness Area, you can simply relax, or explore the history, trails and lakes of this unique alpine wilderness and discover the real Tasmania. Indulge with a book by the roaring fire, gaze outside and watch the world go by. A truly remarkable place to unplug and switch off from the world. Step outside and be immersed in the remote wilderness environment. Whether it is to explore the many alpine tarns, walk the trails of the Central Plateau or to simply soak up the pristine air and wide-open spaces, this place will awaken the soul. A quiet loneliness, a sense of space and freedom that stems from open expanses of windswept moors. Relax, slow-down, recharge and relish the peace and serenity of this natural alpine plateau. Breathe in crisp air, feel spongy moss, taste fresh stream water from crystalline lakes, touch ancient dolerite boulders. Be amazed by the wildlife and experience ever-changing weather.
Disabled access available, contact operator for details.
ROOMS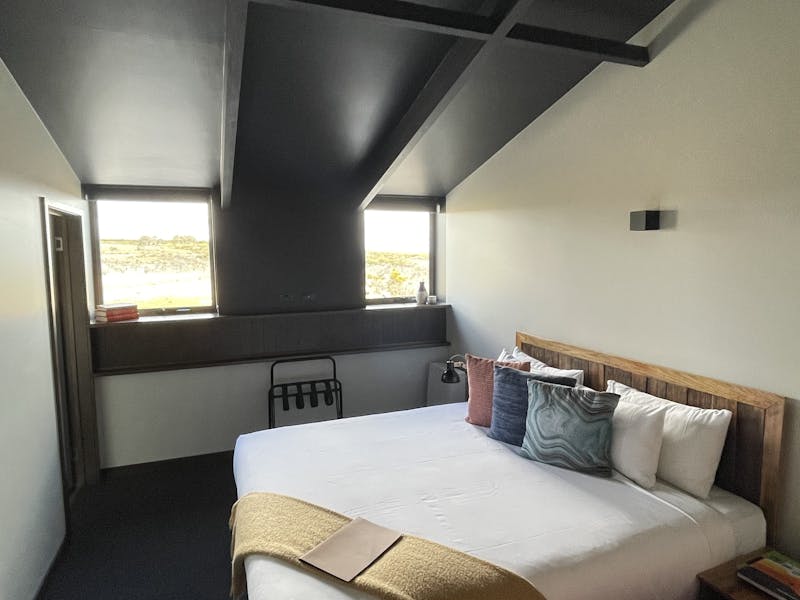 Lodge Explorer Room - Ensuite / Lodge Pioneer Room - non-ensuite
Located upstairs, the explorer and pioneer rooms offer views of the magnificent, surrounding alpine landscape. Two of the explorer rooms have a bath, while the others have walk-in showers. Pioneer rooms have a separate, private bathroom situated downstairs. All rooms have gas heating and opening windows with fly-screens.
2