Auf halbem Weg zwischen Hobart und Launceston und fünf Minuten vom historischen Dorf Oatlands entfernt, ist die vom National Trust denkmalgeschützte Bowhill Grange eine bildschöne Sammlung früher kolonialer Farmgebäude, die 1854 erbaut wurden. Bowhill Grange liegt in einer grünen Oase, beschattet von einem Hain uralter Zypressenkiefern und auf einem Sandsteinkamm mit Blick auf den angrenzenden Damm. Es ist umgeben von Hunderten von Morgen erstklassiger Merinoweiden mit einer dramatischen Kulisse des Tafelbergs und des umliegenden Naturschutzgebiets . Ursprünglich Teil des renommierten Anwesens von Anstey Barton, ging das Eigentum 1878 unter der Leitung von Sir James Agnew, der später einer der ersten Premiers Tasmaniens war, an sechs Generationen der Familie Agnew über. Bowhill Grange, ein integraler Bestandteil dieses prominenten Landbesitzes, spiegelt nicht nur die frühe Kolonialgeschichte Tasmaniens wider, sondern leistete tatsächlich einen aktiven Beitrag, der in dieser Zeit in der gesamten jungen Kolonie als Heimat von The Assyrian, dem Gewinner des Melbourne Cup von 1882, bekannt war, der untergebracht wurde hier seit fast zwei Jahrzehnten. Mit zwei wunderschön renovierten, unabhängigen Cottages ist Bowhill Grange ein idealer Ausgangspunkt, um die herrlichen Southern Midlands und darüber hinaus zu erkunden, mit Hobart, Launceston und der Ostküste, die alle etwa eine Autostunde entfernt sind. Oder warum lehnen Sie sich nicht einfach zurück, entspannen sich und genießen den wahren ländlichen Frieden und die Ruhe?
Actively welcomes people with access needs.
ROOMS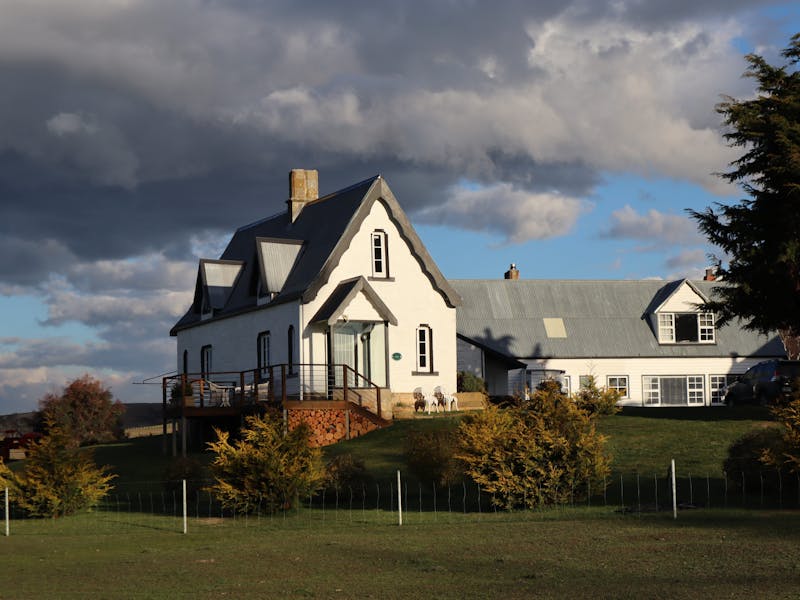 Elizabeth's Cottage
Originally constructed in 1854, it was designed by the renowned ex-convict architect Frederick Thomas who was responsible for many landmark colonial buildings. The cottage was groundbreaking for its time in that it was planned to provide improved lodging to entice immigrant farmworkers and their families to rural Tasmania. The resultant sandstone building is very distinctive in style with its high pitched roof, five-meter ceiling and commanding position overlooking the surrounding pastures. Extensively renovated in recent years, it combines wonderful old features like the original wooden staircases, tall deep-set windows, original baker's ovens and a huge sandstone fireplace in the sitting room, with thoughtfully sourced furnishings that harmonize with and enhance the character of the original building. A large private verandah is a perfect spot for soaking in the views. The cottage has two character-filled bedrooms. The main bedroom is on the ground floor with an ensuite bathroom and an extra single bed. The second bedroom is accessed through the main bedroom via very steep and narrow stairs and is not suitable for children or the mobility impaired and does not have a separate bathroom. There is a fully equipped kitchen and breakfast provisions.
4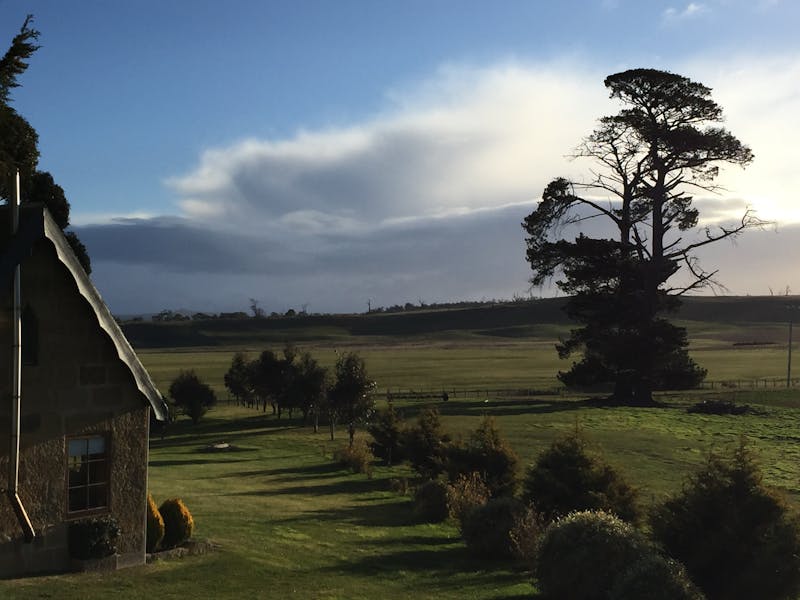 Shepherds Rest
This Cottage is currently not available as it is being renovated.
3
Shepherds Rest
This cottage is currently being refurbished with completion scheduled for December 2021
Qualität Tourismus Accreditation