Arthur River Cabin Park es un pequeño y amigable parque de cabañas y caravanas de propiedad y operación familiar ubicado a 2 km del río y la playa. Estamos ubicados en el extremo noroeste de Tasmania, 14 km al sur de Marrawah, en el área de conservación de Arthur Pieman, y somos la puerta de entrada a Tarkine Wilderness y Western Explorer Road, un camino alternativo de ripio en buen estado que conduce a Corinna y Strahan. Una parte muy real y rústica de Tasmania que realmente necesitas ver para creer. Ven y explora un área con playas vírgenes, la selva tropical templada fresca más grande de Australia, los vientos rugientes salvajes de los años 40 en el borde del mundo y algunas de las olas más grandes que verás mientras estás parado en tierra. Estamos a solo un salto de Arthur River Cruises (altamente recomendado) que lo lleva 14 km por uno de los ríos más vírgenes de Tasmania, alimentando a las águilas marinas en el camino. El parque ofrece sitios con electricidad, sitios sin electricidad y alojamiento en cabañas, así como una cocina para acampar, un área de barbacoa, lavandería y un edificio de servicios. Tenemos una gran cantidad de vida silvestre, incluidos paddymelons, echidnas, wallabies, possums e incluso el quoll y el diablo ocasionales.
Actively welcomes people with access needs.
ROOMS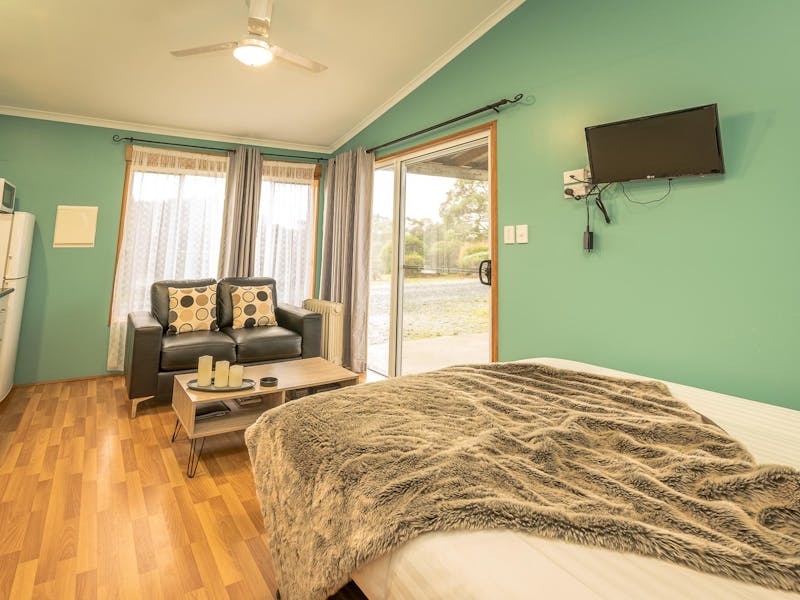 Park cabin
Typically a Park Cabin is a semi-portable dwelling situated within Caravan/Cabin Park. It includes full cooking facilities and private shower/toilet.
16
Calidad de turismo de Acreditación
Acreditación en Turismo Sostenible