Ballachulish es una granja de vegetales boutique de 10 acres y una casa de vacaciones con cocina convenientemente ubicada en Cradle Coast Tasting Trail. Perfectamente ubicado en la colina sobre el pintoresco pueblo de Forth en el noroeste de Tasmania. Estará encantado con las magníficas vistas desde todas las ventanas de los potreros y montañas circundantes al oeste, y el encantador jardín antiguo que rodea la casa. La casa ofrece la máxima privacidad sin estar aislada y está a solo minutos en automóvil de Forth Village y a siete minutos en automóvil de Devonport. La granja está cerca de muchas atracciones turísticas, algunas tan cerca como a cinco minutos en coche. A saber, el Don Railway y solo un poco más de una hora en automóvil hasta el magnífico Parque Nacional Cradle Mountain. Ballachulish ha sido completamente renovado con un alto nivel y tiene capacidad para siete personas. Ofrecemos dos camas queen y una litera doble/individual. La cocina es el centro de la casa y una delicia para cocinar con todos los electrodomésticos nuevos de alta gama, y ofrece vistas al hermoso jardín. La casa está bien equipada con tres televisores, sistema de sonido, banda ancha inalámbrica, calentadores en todas las habitaciones y una pequeña área de oficina con impresora.
Actively welcomes people with access needs.
ROOMS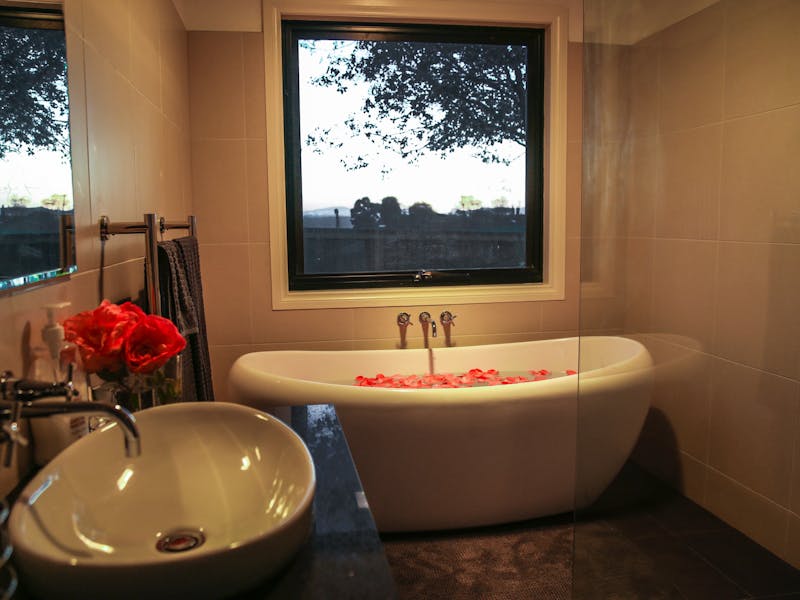 Holiday House
There are three bedrooms; two with queen beds. Each room also has plenty of wardrobe space and an extra free-standing heater. The kitchen has been fully renovated with all new appliances. An induction cook top with three ovens offers plenty of room for large group catering. The extension has meant that a magnificent country table is now part of the kitchen area and can seat 8 to 10 people. The views from the kitchen of the garden are delightful and the large sliding doors open up on to an entertainment area with barbecue and their "Sunset Bar". Breakfast can be taken on the adjoining balcony on the eastern side of the house and is a beautiful warm and sunny spot to start the day.
7
Calidad de turismo de Acreditación
Acreditación en Turismo Sostenible