Arthur River Cabin Park est un petit parc de caravanes et de chalets familial et convivial situé à 2 km de la rivière et de la plage. Nous sommes situés dans l'extrême nord-ouest de la Tasmanie, à 14 km au sud de Marrawah, dans la zone de conservation d'Arthur Pieman, et sommes la porte d'entrée du Tarkine Wilderness et de la Western Explorer Road, une autre route de gravier bien entretenue menant à Corinna et Strahan. Une partie très réelle et rustique de la Tasmanie qu'il faut vraiment voir pour le croire. Venez explorer une région avec des plages intactes, la plus grande forêt pluviale tempérée fraîche d'Australie, les vents sauvages des années 40 au bout du monde et certaines des plus grandes vagues que vous verrez sur terre. Nous ne sommes qu'à quelques pas des croisières sur la rivière Arthur (fortement recommandées) qui vous emmènent sur 14 km sur l'une des rivières les plus vierges de Tasmanie, nourrissant les aigles de mer en cours de route. Le parc propose des sites avec électricité, des sites sans électricité et des cabines d'hébergement ainsi qu'une cuisine de camp, un espace barbecue, une buanderie et un bâtiment de commodités. Nous avons une abondance d'animaux sauvages, notamment des paddymelons, des échidnés, des wallabies, des possums et même occasionnellement des quoll et des diables.
Actively welcomes people with access needs.
ROOMS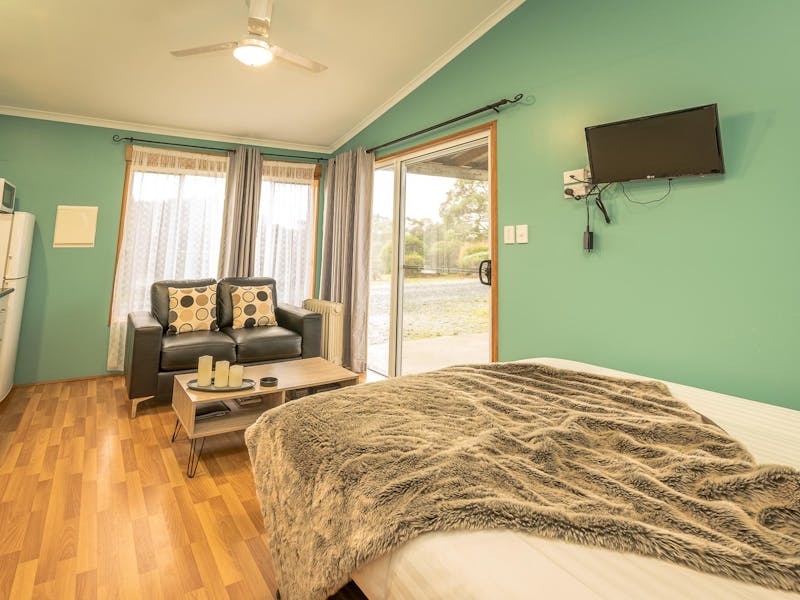 Park cabin
Typically a Park Cabin is a semi-portable dwelling situated within Caravan/Cabin Park. It includes full cooking facilities and private shower/toilet.
16
Qualité Tourisme Accréditation
Tourisme durable Accréditation