ビーチエンドは、タスマニアの東海岸ビシェノにある自炊式の宿泊施設です。タオルとすべてのベッドリネンが用意されています。自分の食べ物を持参するだけです。 インターネットと駐車場は無料で含まれています。ビーチエンドには3つの独立したアパートメントがあります。 3つの領域は互いに完全に分離されています。 ユニット1は、ソファベッド付きの2〜4名用の広々とした1ベッドルームユニットです。小型冷蔵庫、小型オーブン、バーベキュー、洗濯機、乾燥機の冷暖房があります。3号機には2〜7人用のベッドルームが2つあります。フルキッチン、冷蔵庫、屋外バーベキュー、冷暖房、電気毛布、50インチのテレビが備わっています。ユニット2、スターフィッシュスイートはホテルの部屋のようなもので、1〜3人用で、調理設備はありませんが、やかんと冷蔵庫があります。テレビ、クイーンベッド、シングルベッドがあります。シャワーとトイレと美しいスタイル。 全室から海と農場の美しい景色を眺めることができます。 わずか300メートル離れたビーチまで歩いてください。ビシェノの村には、さまざまなカフェやレストラン、スーパーマーケットがあります。ガルチ埠頭で新鮮な魚を購入します。 ビシェノは、ローンセストンの南東とホバートの北東(174 km)から車で2時間強です。来て、私たちと一緒にいてください。
Does not cater for people with access needs.
ROOMS
Family 2 bedroom
Full kitchen large lounge room with sofa bed. Large bathroom with shower and two toilets. Suits a group of up to 7 people in 5 beds. two queens and 3 singles. Terrific views and children's grassy play area. 300 metre walk to the beach. Fishing rods and BBQ available. Outdoor dining and lounges
11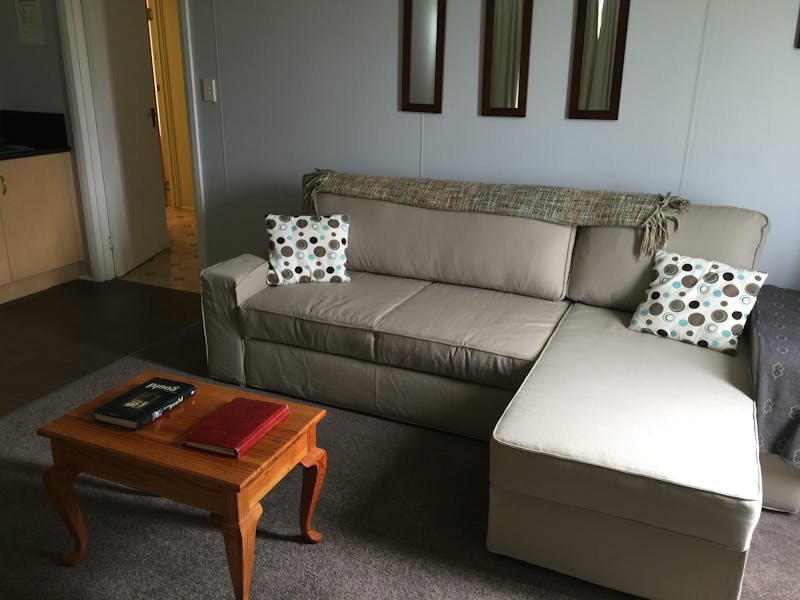 Seaview on bedroom
Large living dining space with TV and queen sized soft sofa bed. Private bedroom and bathroom with shower. BBQ on the deck and kitchenette for cooking. Fantastic seaviews and visiting penguins.
4
品質ツーリズム認定