Aim high, plummet low or keep hiking boots on the ground at Tasmania's most popular natural playground.
Day 1: Around Cradle Mountain
Begin with that view, riding the national-park shuttle bus to the shores of Dove Lake. Absorb the trademark scene of Cradle Mountain rising from its waters, then set out clockwise around the Dove Lake circuit walk.
Choose another trail, for more exploration. Hike to Crater Lake and Wombat Pool, or climb on from Crater Lake to reach Marions Lookout – this is the first section of the Overland Track, providing a taste of the famous hike.
In the evening, head to Devils @ Cradle to watch Tasmanian devils scrap and snarl over dinner.
Stay overnight at Cradle Mountain, where options include Peppers Cradle Mountain Lodge, Cradle Mountain Wilderness Village and Cradle Mountain Hotel.
Day 2: Around Cradle Mountain
Aim high today – set out on foot for the summit of Cradle Mountain. It's a 12.8km return walk that takes about 8hr. Or take to the skies on a scenic flight with Cradle Mountain Helicopters.
Knead out the kinks with a massage or spa treatment at Waldheim Alpine Spa.
Day 3: Around Cradle Mountain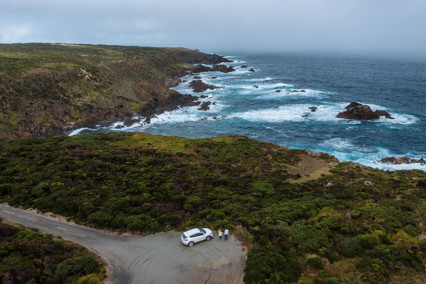 Plan your next adventure
Add this road trip to your Trip Planner and build your very own itinerary.