Argyle Motor Lodge 提供優質便利的住宿,距離霍巴特市中心 2 公里。 您可以選擇裝飾高雅的汽車旅館客房、設備齊全的一室公寓或豪華的行政套房。提供級別訪問單元。 有持牌酒吧、客用洗衣房、乾洗服務、街邊停車位,如果您願意,甚至可以在床上享用早餐。所有客房均配有沏茶/咖啡設備、烤麵包機、冰箱、電話、電視、熨斗/熨衣板、電熱毯和暖氣。設備齊全的一室公寓設有設備齊全的廚房。我們還提供免費 Wi-Fi 服務。 霍巴特有很多值得一看的地方——宏偉的殖民時期建築、經過修復的古樸小屋、繁華的歷史悠久的海濱、漁船、帆船、畫廊、古玩店和薩拉曼卡廣場的高級餐廳。 在 Cascade Brewery 品嚐啤酒,乘船前往 Moorilla Estate 品嚐啤酒和葡萄酒,或參觀標誌性的 State Cinema。驅車前往惠靈頓山頂,欣賞霍巴特的美景。 如果您想離開城市,驅車一小段路即可到達里士滿村,該村建於 1800 年代初期,這裡有保存完好的小屋、教堂和著名的砂岩橋。或者從附近的劍橋搭乘飛機,鳥瞰西南荒野。
Disabled access available, contact operator for details.
ROOMS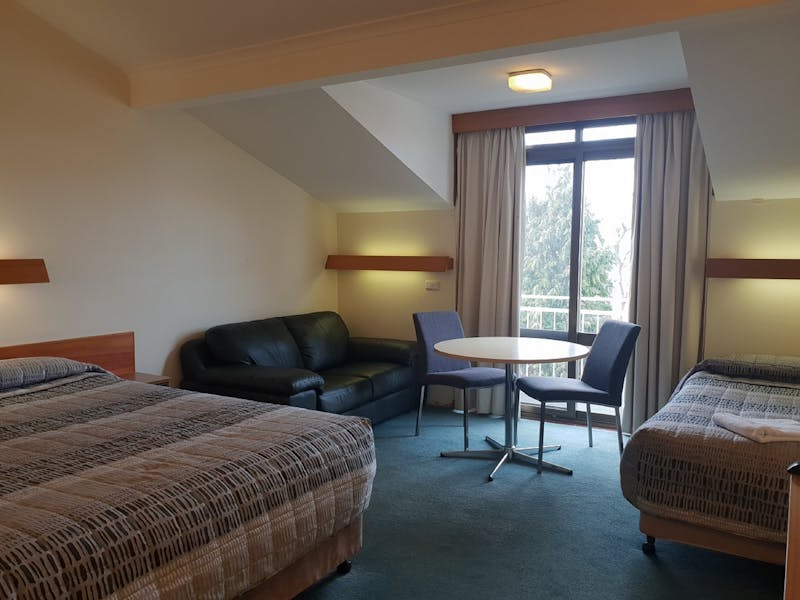 Studio Apartment
Typically a Studio Apartment has bed/s, a fully equipped kitchen and its own bathing and toilet facilities. The bed or beds are normally within the lounge/living room.
3
Ensuite room
Typically an Ensuite room has bed/s and own bathing and toilet facilities accessed from within the room. All rooms have tea and coffee making facilities, small fridge and toaster with some cutlery and crockery provided. Some rooms have microwaves, guests are asked to please request these when making their reservations.
2