塔斯馬尼亞大本營是一處寧靜、幽靜、寧靜的叢林山谷中的鄉村度假勝地。這家建築師設計的設施位於德文特山谷新諾福克上方的格倫芬高處,距離霍巴特不到 60 分鐘路程,如果您正在尋找一個寧靜祥和的地方放鬆身心,這裡是理想的度假勝地。 住宿選擇範圍從我們配備私人設施的設備齊全的小屋(最多 6 位客人)、帶背包儲藏室的干淨舒適的宿舍(最多 10 位客人)到我們的露營地。所有客人都可以使用公共設施,包括免費洗衣和燒烤,所有設施的設計都是為了盡量減少使用天然材料、可回收廢物系統、節能電力和天然供水對環境的影響。 在我們 41 公頃的土地上探索各種獨特的塔斯馬尼亞動物、鳥類和植物群,或者輕鬆駕車前往附近的一些塔斯馬尼亞世界遺產荒野地區和國家公園。在普倫蒂河和德文特河釣鱒魚;參觀鮭魚池;驚嘆於冥河谷的森林巨人;探索亞瑟港刑事定居點;品嚐一些煤河谷的優質葡萄酒;或與我們一起參加 Tasmanian Wilderness Experiences 的帶導遊的叢林徒步之旅。
Actively welcomes people with access needs.
ROOMS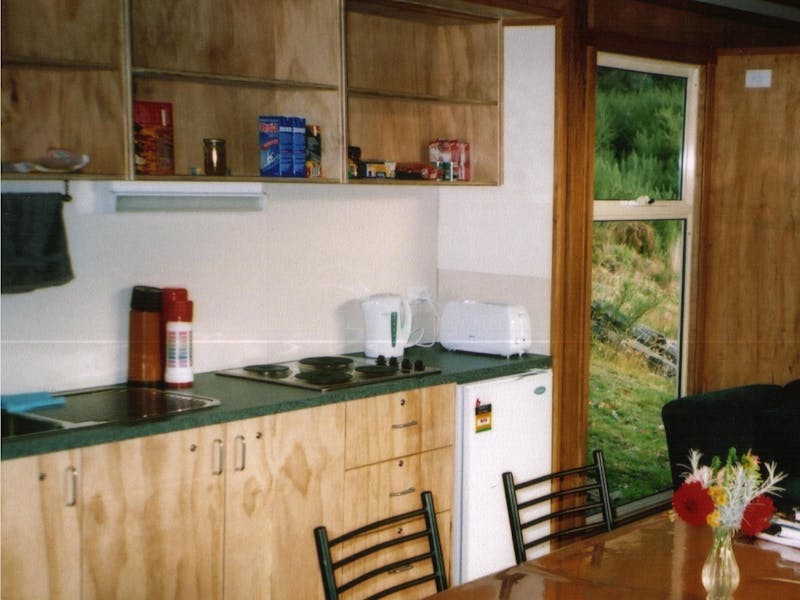 Family Cabin
Our Family Cabin consists of two bedrooms (one queen and four roomy bunks) separated by a kitchen/lounge with private facilities (shower/bathroom and toilet). The tariff includes use of a barbecue on the sheltered deck overlooking Mt Lloyd (933 metres) and guests can explore our 41 hectares of Conservation Covenanted regenerating bush (listed in 2013 with the Wildlife Land Trust) or observe and help us feed our plentiful wildlife. All our guests have access to the communal facilities comprising kitchen and common room, toilets and showers, free laundry facilities and free barbecue facilities. All facilities are designed to minimise their environmental impact, using natural materials, recyclable waste systems, energy efficient power, and a natural water supply.
6
Dormitory/Bunkhouse
Our clean and cosy Dormitory/Bunkhouse contains ten roomy bunks with rucksack storage. Associated facilities include an amenities block with showers, toilets and a laundry, and a kitchen cabin/common room with all cooking facilities (including a free barbecue on our spacious deck overlooking Mt Lloyd (933 metres) and Glenfern Valley. All bedding (pillows, doonas, sheets) and towels are included in the tariff.
10
COVID清潔執業業務
的EcoStar認可
優質旅遊認證
可持續旅遊認證