Set in the pristine takayna / Tarkine, Corinna Wilderness Village provides a range of accommodation options on Tasmania's West Coast in the largest temperate rainforest in Australia. Options include individual eco retreats that overlook the Tarkine, renovated miners' cottages, rainforest camping platforms, and the historic Old Pub. Experience the untouched nature of the southern Tarkine from Corinna, with majestic rivers, remote rainforest wilderness and the wild Southern Ocean at guests' fingertips. Fine hospitality, rustic accommodation, local produce in the Tannin Restaurant, and wilderness activities provide the springboard to accessing the raw nature of the West Coast. Corinna, a former mining village, is full of rich pioneering and natural history. Experience numerous walks including the Huon Pine Walk, the Savage River Walk, the Whyte River Walk, or the climb up Mount Donaldson. Corinna is also the springboard for iconic treats in Tasmanian tourism: The Pieman River Cruise on MV Arcadia II, the Sweetwater Cruise, and Kayak Hire for an intimate exploration of nature. Allow nearly 6 hours to drive from Hobart to Corinna, 3 hours from Devonport or 1.5 hours from Strahan. Corinna can be accessed by the Western Explorer Road (C249) road, from the north via Waratah on the B23, or from the south using the iconic 'Fatman Barge' (C249/C252).
Disabled access available, contact operator for details.
ROOMS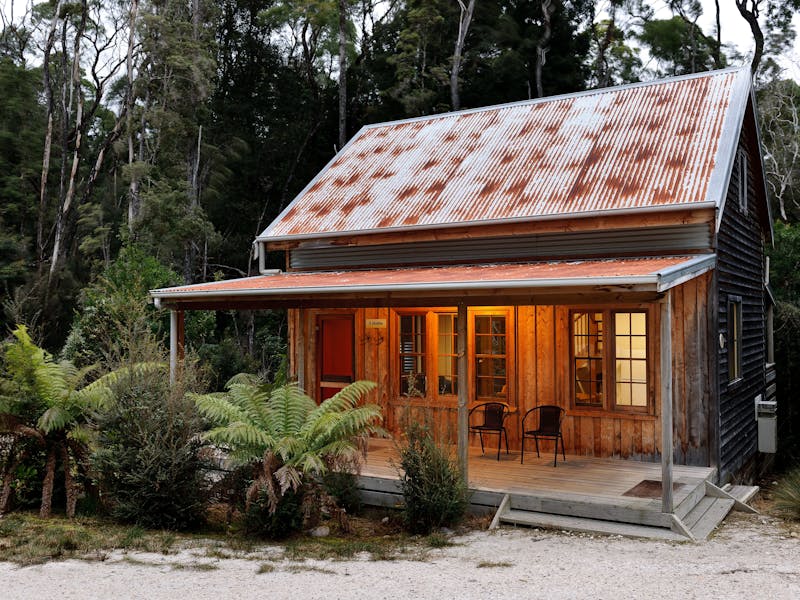 1 & 2 Bedroom Eco Retreats, The Roadman's Cottage & The Old Pub
All cottages/retreats are equipped with cooking facilities and private amenities, one and two bedrooms are available, The Roadman's Cottage (sleeps 2) and The Old Pub (sleeps 8). All cottages have impressive views of the Tarkine wilderness.
8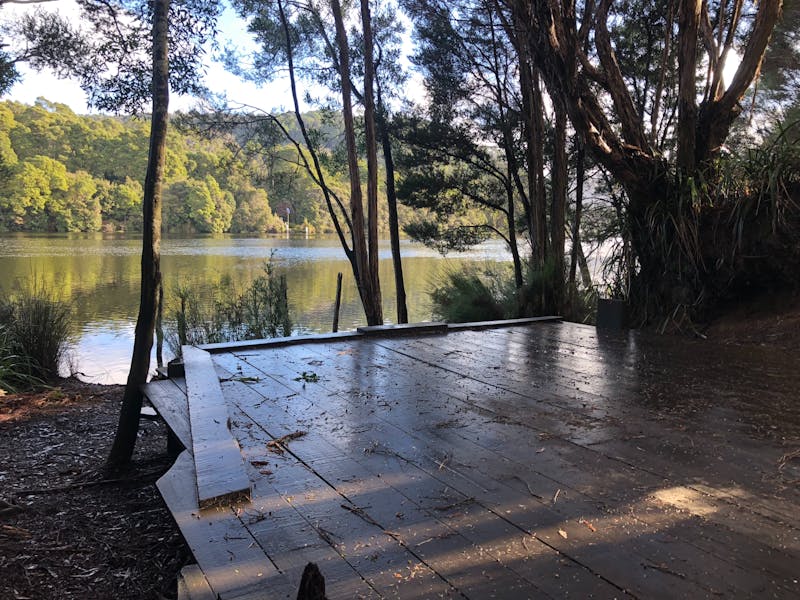 Unpowered Camp Sites
All 10 campsites have wooden platforms for tents/swags, and some sites can accommodate camper/caravans. Advance contact is highly recommended to book. All sites are unpowered, with amenities and meals available at the Tarkine Hotel. Showers take $2 coins only, due to rainwater and solar power.
6