Flinders Island Retreat at Cooma House is a hosted guesthouse experience - great for groups of family or friends. There are five double rooms, one of which is all access and all meals available. Each room has an en-suite, separate toilet, smart TV, heating, cooling with quality bedding on either king or queen beds and small break-out spaces tucked around the house. Think Auberge or Trattoria. Meals are provided using island produce - paddock to plate and fresh produce from the kitchen garden. Slow down, stroll through the labyrinth, watch the clouds, or counts your steps to the beach. The property of over four hectares is on the doorstep of the National Park; the beach is a stroll down the drive. There are original artworks, a library of contemporary fiction - with Nespresso and leaf teas set out. Enjoy the views through tall trees to the sea. Wendy offers cooking schools and other packages - intimate weddings too. It's six degrees warmer in winter than Melbourne staying at Flinders Island's first settlement. "This place is unique - so much more friendly and homely than staying in traditional hotels/motels. We feel part of the family ... (it has) ambience and atmosphere."
Disabled access available, contact operator for details.
ROOMS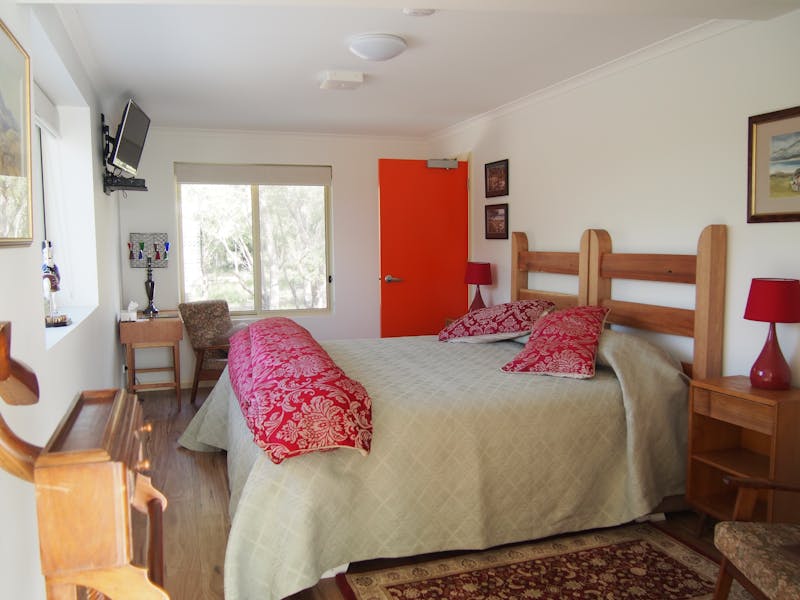 The Topaz Room
The Topaz room is east facing capturing the blue topaz light of mornings and you can see through the trees to the islands in Adelaide Bay. It has an en-suite with a separate toilet, beautiful white terrazzo floor tiles and a brightly lit shower with glass bricks, a couple of which are randomly coloured orange and blue. There is original art from Dawn Zelman and Maria La Grue. Also included is a lamp from Margaret Purcell's "Sultry Shades" and sewing kits by Sue Gardner. In addition to split system heating and cooling, smart tv and Turkish carpets, the bespoke bed head made with blackwood from the property has a pillow topper and luxury bedding. This long king bed can be split into two king singles. A free two-course breakfast is included and other meals are available. You're invited to browse contemporary fiction or research books in the library or walk the labyrinth or stroll along the beaches below. Your host is a 'local' and will tell you the stories as well as help you discover Flinders Island.
2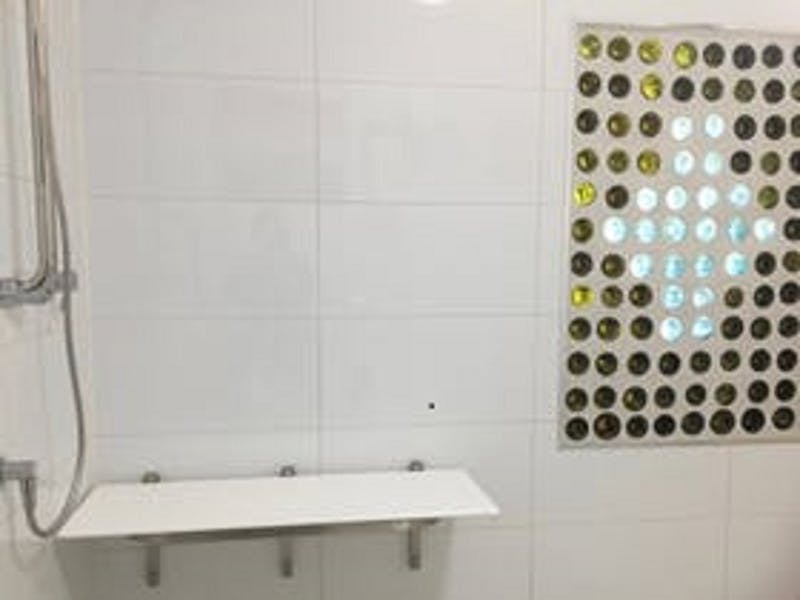 The Parkavee Room
The All-access Parkavee Room is named for the original family farm at Memana. It has a wide cedar door opening onto the Eastern Verandah offering access from the car drop-off point. The verandah has cameo sea views. The room has heating and cooling, tv and an all-access separate bathroom with the usual necessities. The queen bed mattress is specifically designed to accept wheelchair access and has a bedside touch lamp. The internal door leads to the main eating and sitting room as well as the courtyard. The nautilus shell-shaped labyrinth accommodates wheelchairs. There is a gravel driveway which accesses the beach. Cooma House has a total of 5 ensuite rooms.
2