When Sir Eccles Snowdon was Lord Mayor of Hobart, he lived in this large and comfortable home in the hilly old suburb of West Hobart - nearly every time you turn a corner there's a view of Mount Wellington, the city or the great Derwent estuary. The twin front gables and cheery red-tiled roof of Sir Eccles old home welcome you to a small, quiet motel with standard, family, spa and self-contained units. Pack your walking shoes for after breakfast, brought to your room when you'll want to walk through the leafy streets to the city, admiring on the way the pretty flowery gardens and quaint cottages. After a strenuous day of sightseeing in historic Hobart, you can catch a bus from the city which just drops you at the door.
Disabled access available, contact operator for details.
ROOMS
Derwent 2 bedroom self contained apartment
Typically an Apartment has one or more bedrooms, a separate living area, cooking facilities and its own bathing and toilet facilities, all accessed from within the apartment.
6
Standard Room
Typically an Ensuite Room has bed/s and own bathing and toilet facilities accessed from within the room.
3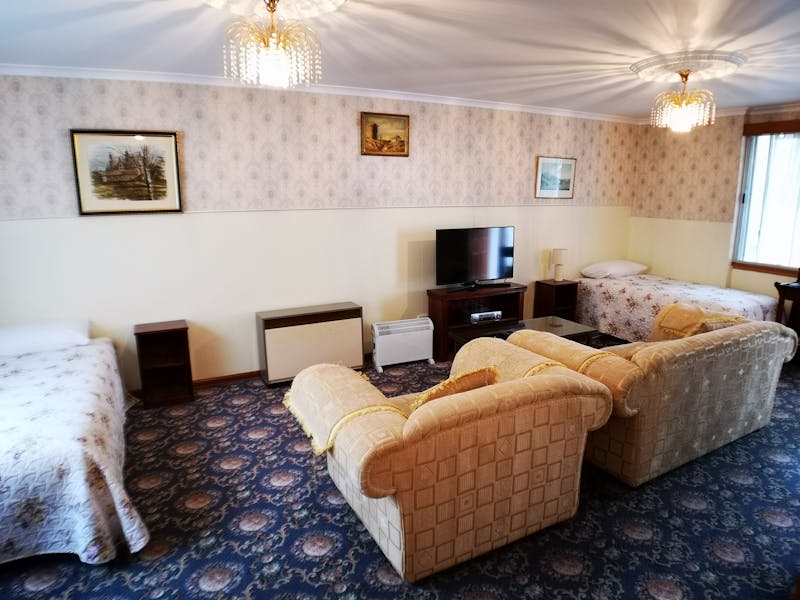 Huon Family Room
Typically a Suite contains at least one bedroom and a completely separate lounge/living room without beds.
5