The new luxury, Quamby Bluff House, is located in Golden Valley, 12 kilometres from Deloraine in the north of Tasmania. This unique spacious house is in a stunning natural setting on a private lake facing Quamby Bluff. There are views of water, mountains, and forests from every window. The modern design has two large bedrooms, two bathrooms (one with a spa), and a large living room. The kitchen is a focal point, connected to a dining room and a beautiful sunroom. There are three fireplaces throughout the house and a compact laundry. Ideal for a couple or two couples. The new house is built in red cedar and black colour bond blends beautifully with its green tranquil surrounds. The house is packed with wow factors, creature comforts and unique antiques and artifacts. The natural setting is being protected with the house totally off the grid with the latest environmentally friendly technology. The property is a registered conservation area protecting habitat for wildlife.
Actively welcomes people with access needs.
ROOMS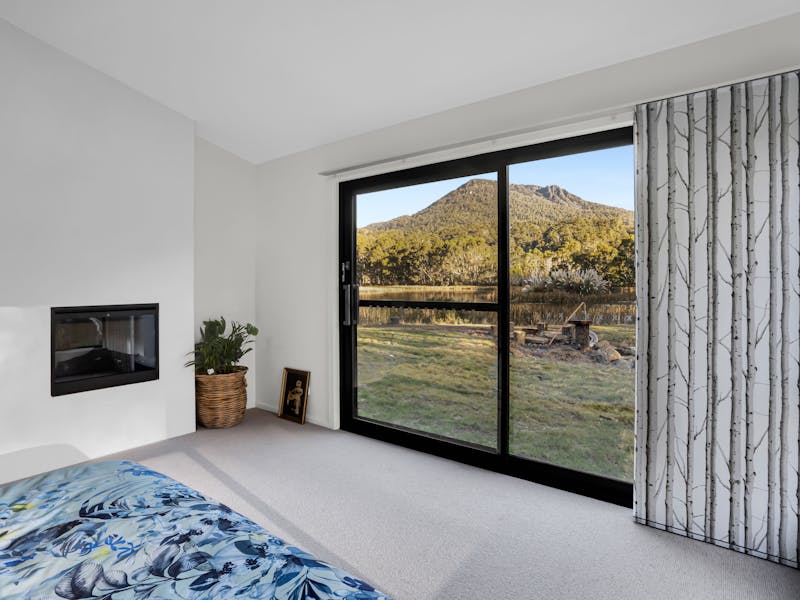 King Room
The house is decorated in a contemporary style with comfortable furnishings including Stress Less chairs. The house is suitable for guests with special needs. The property also offers guests beautiful outdoor settings with spa, fire pit, barbeque, kayaking, fishing, walking and massage.
4