L'hébergement patrimonial Blakes Manor est idéalement situé à Deloraine, dans le nord de la Tasmanie, et entouré par les magnifiques Great Western Tiers. L'hébergement patrimonial autonome offre aux visiteurs la possibilité de se détendre et de remonter dans le temps tout en profitant de tout le confort de la vie moderne. Construite à l'origine au milieu des années 1800, cette propriété est l'une des plus anciennes de Deloraine. Offrant quatre suites, trois décorées dans un style géorgien, dont la suite Blakes Mews (pour 6 personnes - deux x QD et deux x SB), la suite Old Convent (pour 2 personnes - 1 x QB) et Gannons Rest (pour 6 personnes ( trois x DB). La quatrième suite est le Quamby Cottage abordable qui convient aux petites familles (2 x DB) et a un style plus contemporain. Quamby Cottage offre une vue sur Quamby Bluff et les Western Tiers. Toutes les suites disposent d'une kitchenette et d'une salle de bains privative. Le premier matin de votre séjour, vous recevrez du pain frais et un panier petit-déjeuner à déguster dans l'intimité de votre suite. Il y a aussi d'autres extras inclus pour rendre votre séjour agréable. Deloraine est à environ 40 minutes en voiture de Devonport, qui abrite le terminal de ferry Spirit of Tasmania.
Disabled access available, contact operator for details.
ROOMS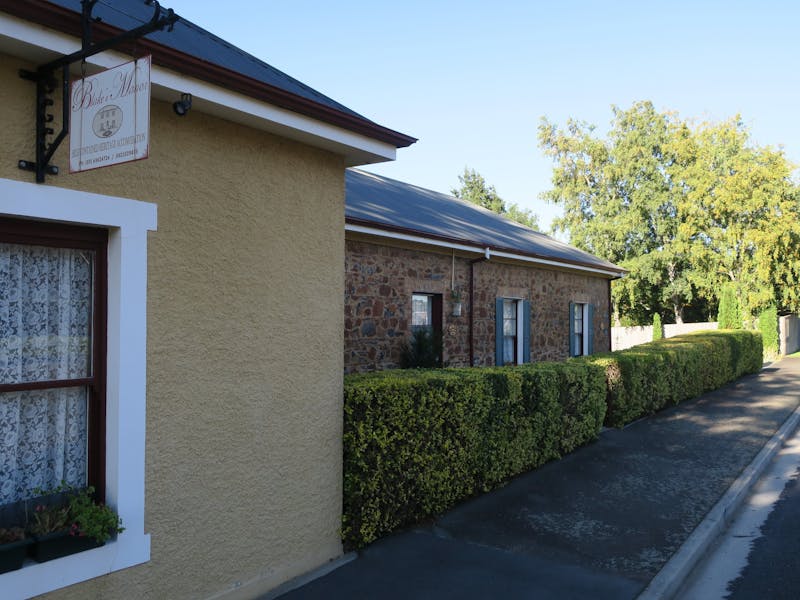 Suite
We have 4 suites, three of which are decorated in Georgian style including Blakes Mews Suite (sleeps 6 guests - 2xQD and, 2xSB), Old Convent Suite (sleeps 2 guests - 1xQB) and Gannons Rest (sleeps 6 guests (3xDB). These suites have kitchenettes and private bathrooms. The fourth suite is the affordable Quamby Cottage which is suited for small families (2 x Double Bed) and has more contemporary styling. Quamby Cottage has views to Quamby Bluff and the Western Tiers. The cottage has a fully equipped kitchen and a private bathroom. Your first nights stay also includes a special "Blakes Manor Breakfast Hamper" including bread cooked by your hosts. Your hosts also provide warming port and local cheeses upon arrival to enjoy in the privacy of your own suite.
13
Bonus Offer
Off Season
Businesses across Tasmania celebrate the Off Season with special offers and rare experiences for winter wanderers – things to do, places to stay and good things to eat and drink. Check out the winter offers and get amongst it.
Valid from juin 29th to août 31th
Get deal
Terms and conditions apply. Contact operator for further details.