From Hobart to Launceston via the lush Derwent and Coal River Valleys, the agricultural midlands and the sunny east coast, this is Tasmania at its tastiest.
Day 1: Hobart to Richmond
Hugging the shores of the broad River Derwent, Hobart rises into the foothills of kunanyi / Mt Wellington. It's a good-looking city, but Hobart is more than skin-deep. This is a foodie town, through and through: think super-fresh seafood in progressive food rooms, paired with cool-climate wines and local gin and whisky.
Fuel-up on a city breakfast – try the fare at Peppina – then follow the river upstream for lunch at the Agrarian Kitchen Eatery in New Norfolk. The inspired menu here is unshakably seasonal, sourced from local farmers, fishers and growers.
Further upstream at Ouse (pronounced 'ooze', rather deliciously), Lawrenny Estate Distillery occupies a stately heritage homestead on the riverbanks. The single-malt magic here comes courtesy of a 'paddock-to-bottle' whisky-making ethos, using barley grown on the 400-acre estate.
After a tasting and a stroll around the grounds, take the scenic backroads east to historic Richmond in the Coal River Valley, home to Australia's oldest bridge (convict-built in 1825). The wineries around town take a more contemporary approach – try Frogmore Creek. Or continue the whisky theme at Lark Distillery, Tasmania's oldest, in nearby Pontville.
Quality heritage accommodation abounds in Richmond: book a bed at Prospect House Private Hotel.
Day 2: Richmond to Coles Bay
Start your day with a bite at the Richmond Bakery, before setting off towards Orford, a laidback beach town where the Prosser River meets the sea. Turning north, follow the Great Eastern Drive as the sun climbs over the ocean.
At Little Swanport, stop by Tasman Sea Salt for a 'salt sommelier' experience. Tour the innovative clean-energy saltworks, followed by tastings of uniquely Tasmanian sea salts paired with zesty local bites.
With plenty of sun and low rainfall, the wineries along the East Coast Wine Trail produce excellent cool-climate pinot noir, riesling and chardonnay. Sip your way into some at the architecturally inspiring Devil's Corner cellar door north of Swansea, with on-site pizza and showstopping views. Inside a convict-built stables nearby, Spring Vale Vineyard puts a different spin on cellar-door architecture.
Further north, turn east towards Coles Bay and visit Freycinet Marine Farm to sample locally harvested oysters and mussels, plus rock lobster, urchin, abalone and scallops. It's a prime picnic spot – or grab a box and head for the nearby Friendly Beaches.
Coles Bay itself is a cherubic holiday town with accommodation ranging from campsites in the dunes to luxe lodges like Freycinet Lodge or Saffire Freycinet.
Day 3: Coles Bay to Launceston
Boot your metabolism out of bed for an early-morning hike to Wineglass Bay in Freycinet National Park (quick dip, anyone?), then make tracks for the northern midlands via Lake Leake, a rural trout-fishing mecca.
Campbell Town is the first big town you'll reach – with yet another convict-built bridge (1838) and some handy roadside eateries. Here's your chance to try a curried scallop pie, Tasmania's unofficial state dish. It may sound (and look) peculiar, but it's unbeatable road-trip sustenance.
Tasmania's second-biggest city is next. In 2021, UNESCO named Launceston an international 'City of Gastronomy', one of only 36 such cities worldwide. The accolade acknowledges Launceston's many excellent cafes, restaurants and markets, as well as northern Tasmania's integrated wine, agritourism and unique 'paddock-to-plate' culture.
Spend the afternoon exploring the urban wilds of craggy Cataract Gorge, or take a cellar-door tour of the Tamar Valley Wine Region, Tasmania's oldest. Start at Josef Chromy then head north.
Finish up with dinner at a city restaurant – try Black Cow Bistro or Stillwater, inside an 1830s flour mill near the gorge – then rest your head at sophisticated Peppers Silo Hotel, an innovative reimagining of a landmark building on the banks of kanamaluka / River Tamar.
Day 4: Launceston and the Cradle Coast
Enjoy a leisurely Launceston cafe breakfast, then experience the diverse foodie temptations of the Cradle to Coast Tasting Trail – a gastronomic celebration of cheese, truffles, olives, honey, hazelnuts, cider, salmon, wine, whisky, chocolate…
Heading north west, watch the cheesemakers in action at the family-run Ashgrove Dairy Door in Elizabeth Town (happy cows, happy cheesemakers). Launch into some truffle fondue or a deluxe cheese toastie.
If you've got the kids in the car (or if you don't), the Van Diemens Land Creamery, also in Elizabeth Town, is an essential pitstop. Order a scoop of artisan ice cream or gelato, infused with Tasmanian flavours like leatherwood honey, lavender, lemon myrtle and whisky.
Across the road is the Christmas Hills Raspberry Farm Cafe – a top spot for a locally-sourced lunch. Leave room for dessert (raspberries with everything).
Heading south to Deloraine, join the hounds on the hunt for black truffles at the Truffle Farm. Get your hands dirty as you unearth these funky fungi, followed by a tasting and a glass of Tasmanian gin, wine or beer.
Back in Launceston, settle in for a regionally sourced dinner – order the handmade gnocchi at Stelo at Pierre's – and look back on four flavour-filled days in Tasmania.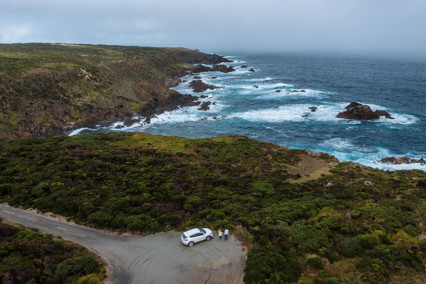 Plan your next adventure
Add this road trip to your Trip Planner and build your very own itinerary.