Equal access means an easy and fun holiday for everyone.
Here are some tips when planning a trip to Tasmania.
Attractions and venues
There are a number of popular accessible attractions and venues in Tasmania. The Royal Tasmanian Botanical Gardens has pram-friendly and accessible pathways, and offers a 1hr guided tour with a buggy. The Cascades Female Factory in Hobart and Port Arthur Historic Site have wheelchair accessibility for most of the attractions on site, however check with visitor services staff on arrival. The Beaconsfield Mine and Heritage Site has good access throughout and viewing platforms.
Most art galleries and museums provide equal access to visitors, including the Queen Victoria Museum and Art Gallery in Launceston, and in Hobart at the Tasmanian Museum and Art Gallery, Mawson's Huts Replica Museum and the Maritime Museum. Most of Mona is accessible, and there's a wheelchair-accessible bus, accessible parking and a lift in the main building. However, access from the ferry pier, along 99 steps, isn't suitable for wheelchairs or prams.
For wildlife encounters, there are no stairs at Seahorse World and ramps throughout Platypus House, both at Beauty Point. The Salmon Ponds and hatchery at Plenty is a level site and has platforms available to fish for trout; phone ahead to check availability. See Tasmanian devils feast at Devils@Cradle in Cradle Mountain; there are ramps and the staff are happy to help. Bonorong Wildlife Sanctuary near Hobart offers free entry to wheelchair users. The top half of the property is accessible, however where the gradient changes some help may be required.
Salamanca Market and the waterfront precincts in Hobart and Launceston have taken special care to allow easy access for people using aids of all types.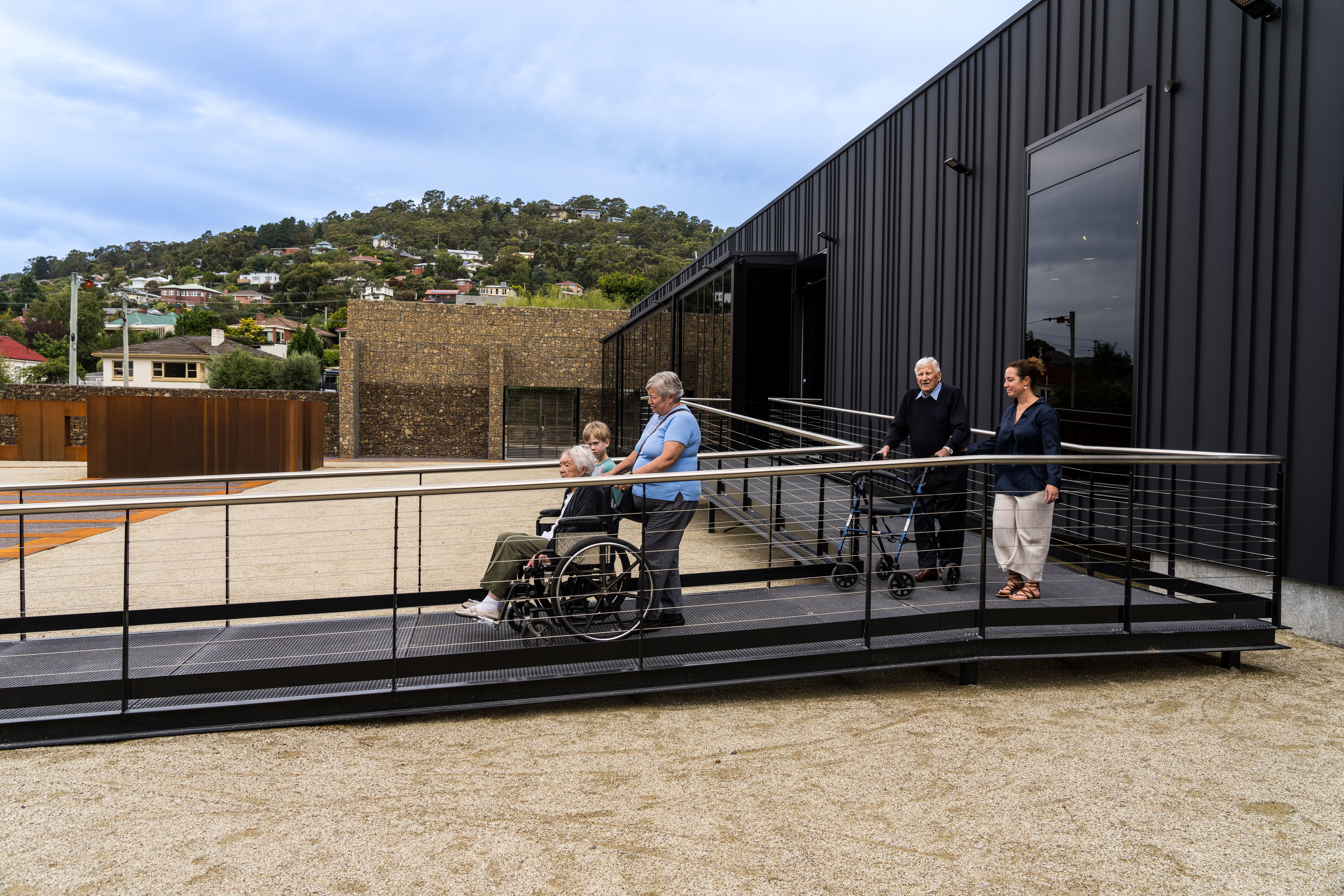 National parks and reserves
Several national parks and forest reserves are equipped to provide access to people who use a wheelchair. Motorised wheelchairs and scooters are permitted in national parks and reserves. TrailRider all-terrain wheelchairs are available to hire at several Tasmanian parks, enabling travellers to explore. There is no hire charge; bookings are required in advance at the relevant visitor centre.
Trained assistance dogs are permitted in national parks. Please advise Tasmania Parks and Wildlife Service staff of the dog's presence when entering a park and have any relevant identification available.
There are accessible tracks in parks and reserves throughout Tasmania. From the most photographed waterfall in Tasmania, Russell Falls, and the riverbanks of the renowned Franklin River to groves of rare pencil pine, there's much to explore across the state.
For a comprehensive list of accessible parks in Tasmania, see parks.tas.gov.au and type "access friendly" into the search bar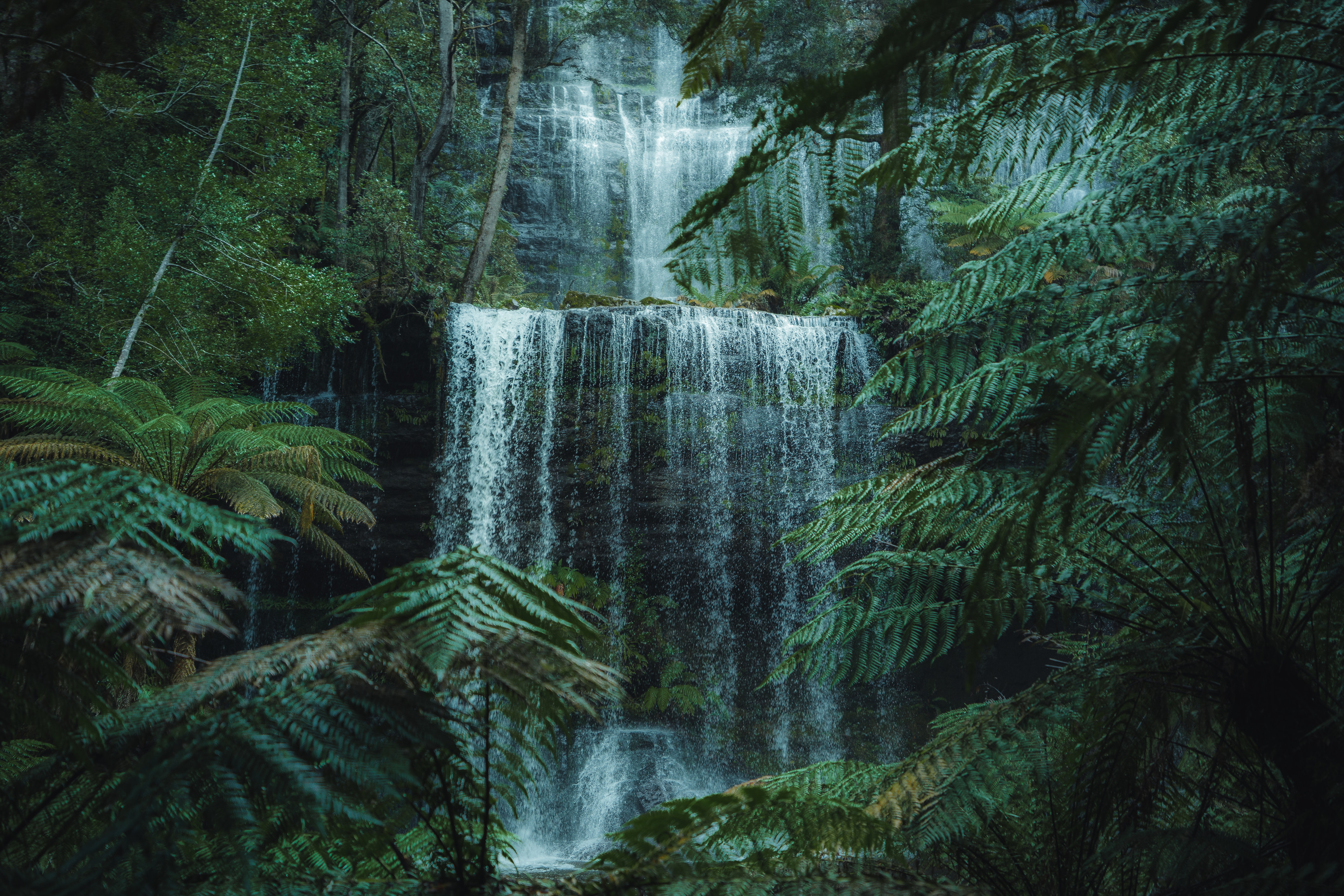 Accommodation
There are equal-access accommodation venues across Tasmania. Freycinet Lodge has two one-room cabins with wheelchair access, plus a Lodge King room with extensive accessibility options. Hotel Grand Chancellor Launceston has a spacious room and ramp access from the car park. Stewarts Bay Lodge on Turrakana / Tasman Peninsula has fully self-contained accessible rooms. On the west coast, Strahan Holiday Park has a two-bedroom cabin with parking directly in front. In Hobart, MACq 01, Salamanca Suites and Vibe Hotel are just a few of the places that have equal-access rooms.
Accommodation listings on discovertasmania.com.au can be searched using the "facilities" filter to find venues that have accessible services.
Transport
For a self-drive journey, some car-hire companies have hand-control hire cars. Check availability when organising your holiday - cars are heavily booked in Tasmania.
The City of Hobart's city centre mobility map has information about disabled access parking zones and toilets, steep gradients and rest spots around Hobart. A print version of the map is available at the Hobart Council Centre on Davey Street, or download here.
To travel by bus, Tassielink Transit offers step-less entry buses – contact the office to ensure a bus is available on the selected route. Metro timetables feature a wheelchair icon to indicate services that have wheelchair access. 13 Cabs has wheelchair-accessible taxis. There are no train networks in Tasmania.
Tour companies that offer wheelchair access include McDermott's Charter Coaches and Tours Around Tasmania. The Red Decker Company and kunanyi / Mount Wellington Explorer Bus sightseeing tours also have wheelchair-accessible buses. Phone ahead to check the tour company's access options.
More information
Call in at a Visitor Information Centre - look for the blue and yellow "i" sign - for advice, maps and equal-access travel information. Accredited visitor information centres are open daily. Contact the Tasmanian Visitor Information Network.