Paddle, pedal or just pause – the Bay of Fires demands full immersion.
Day 1: Around The Gardens
Get orientated and wowed on a drive along The Gardens road. It runs for 20km behind a string of beaches in the larapuna area, which includes the Bay of Fires.
Return to St Helens and turn back north, heading into Mount William National Park. Climb wukalina / Mount William for a lofty view across the north-east and the islands beyond, and feel the fury of the sea at Eddystone Point Lighthouse.
Stay overnight in the larapuna area. Options include the Bay of Fires Bush Retreat, Holland House, Georges Bay Apartments and, inland, the hilltop rainforest perch of The Keep.
Day 2: Mountains to beach
Begin in breezy style, mountain biking from the Blue Tier to the coast on the Bay of Fires Trail, washing off the sweat with a dip at Swimcart Beach at ride's end.
Settle back – you've earned it – on a Bay of Fires Eco Tours cruise along the beach-lined coast.
Day 3: Around St Helens
Pedal rather than paddle through the waters on a Hobie pedal-powered kayak trip with Secret River Tours in Georges Bay, Ansons Bay or the Scamander River. Fishing trips from the kayaks are also available.
Lunch on locally caught, sustainably sourced seafood at the floating Skippers Fish Shop on St Helens' waterfront. Dine in or grab takeaway for a beach picnic.
Step into the world of anacondas, pythons, Indian star tortoises and other exotic, captive-bred creatures at Serpentarium Wildlife Park, home also to natural gem displays.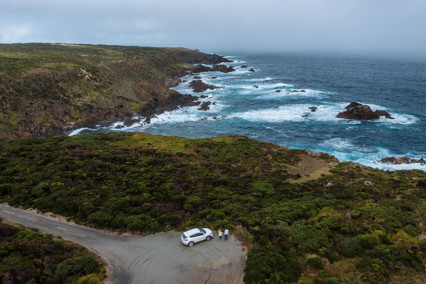 Plan your next adventure
Add this road trip to your Trip Planner and build your very own itinerary.